Eucalyptol Oil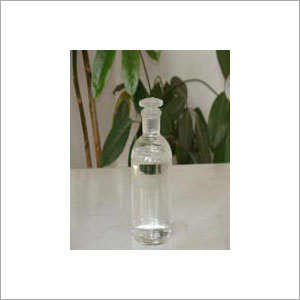 Eucalyptol Oil
Price And Quantity
Kilograms/Kilograms

500 Onwards INR
Product Description
Eucalyptol Oil (Cineol/Eucalyptol 99%)
Eucalyptol is a monoterpene and cyclohexanol derivative that is obtained from the volatile oil of Eucalyptus Globulus and of some other species of Eucalyptus. It is used in mouthwash, insect repellent and as a cough suppressant and is also widely used as a flavoring agent and solvent. It should be kept in well stopper bottles in a cool and dry place protected from sunlight.
Formula: C10H18O

Molecular weight: 153.66

Synonyms: Cineol, Cajuputol
While preparing the oil of eucalyptus from eucalyptus leaves the portion distilling between 170o C (338 F) and 178o C (352.4 F) is called crude eucalyptol. It is purified by surrounding the crude eucalyptol by a refrigerating mixture; eucalyptol separates in long, needle-like, colorless crystals. The crystals are then drained out from their adherent oil and this process of crystallization is repeated several times.
Eucalyptol is a colorless liquid, aromatic and distinctly camphoraceous odor and pungent smell and having a spicy and cooling taste. It is obtained from different oils as well as from various species of Eucalyptus.
Specification
Specific gravity 0.930 at 15 C (59 F)

Boiling point 176 to 177 C (348.8 to 350.6 F)
Eucalyptol is optically inactive (distinction from the oil of eucalyptus and many other volatile oils). When exposed to a temperature below 0C (32F) or placed in a freezing mixture, it solidifies to a mass of colorless, needle-shaped crystals which liquefy at -1 C (30.2 F).
Application
It is soluble in all proportions, in alcohol, carbon disulphide and glacial acetic acid. Although it can be used in a low dose as a flavoring ingredient in medicine, eucalyptol is toxic if ingested at higher dose.
Because of its pleasant spicy aroma and taste, it is used as flavoring agent in fragrances and cosmetics. Cineole based eucalyptus oil is used as a flavoring agent at low levels (0.002%) in products like confectionery, baked goods, meat products and beverages.
A report released by five top cigarette companies in 1994, eucalyptol was listed as one of the 599 additives to cigarettes. It is added to improve the flavor. Eucalyptol is used in many brands of mouthwash and cough suppressant. It controls airway mucus asthma via anti-inflammatory cytokine inhibition. Eucalyptol is an effective treatment for non-purulent rhino sinusitis. Research showed that treated subjects experienced fewer frontal headaches, headaches on bending and sensitivity of pressure points of trigeminal nerve, nasal obstruction, impairment of general condition and rhino logical secretion. Side effects from treatment were minimal.
Contact Us
1/2249, 2nd floor, Street No- 12 & 13, Near Shanti Opticals, East Ram Nagar, Shahdara,, Delhi, Delhi, 110032, India
Phone :+918045478405